Introduction: UK consumer confidence at record low
Good morning, and welcome to our rolling coverage of business, the world economy and the financial markets.
UK consumer confidence has fallen to its lowest level since records began nearly 50 years ago, as the cost of living crisis hits households, and a summer of strike action looms.
Research company GfK's monthly survey of Consumer Confidence Index has hit a new record low this month, dropping one point to -41 in June.
There was a particularly sharp drop in people's personal financial expectations, as inflation squeezed incomes.
Measures of changes in personal finances over the last year, and of general economic situation over the last year and the next year all dropped.
Joe Staton, Client Strategy Director, GfK says Britain faces a stark new economic reality, and people are reacting accordingly:
With prices rising faster than wages, and the prospect of strikes and spiralling inflation causing a summer of discontent, many will be surprised that the index has not dropped further. The consumer mood is currently darker than in the early stages of the Covid pandemic, the result of the 2016 Brexit referendum, and even the shock of the 2008 global financial crisis, and now there's talk of a looming recession.

One thing is for sure, Britain faces a stark new economic reality and history shows that consumers will not hesitate to retrench and tighten their purse strings when the going gets tough."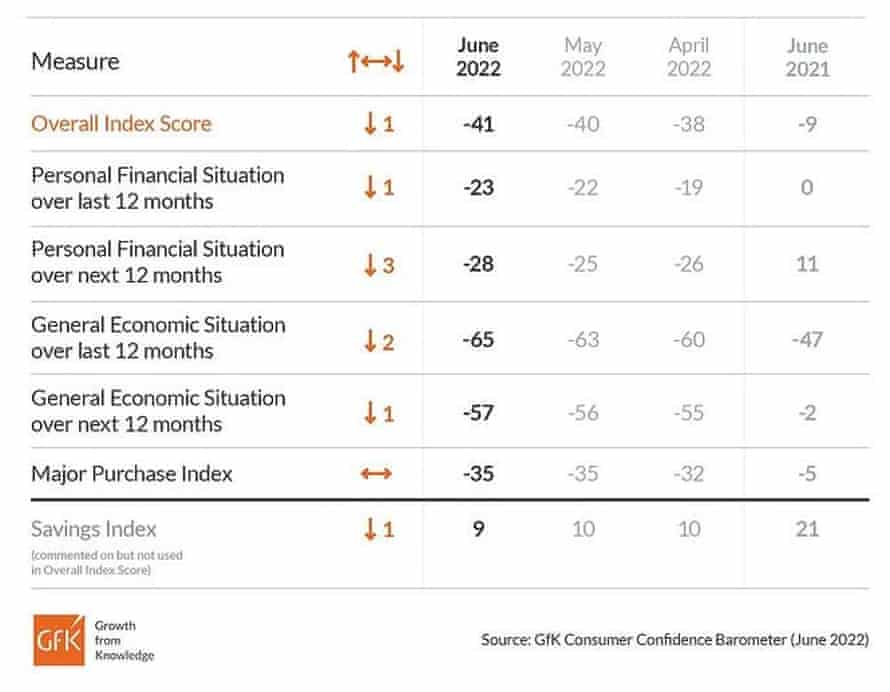 Britain's bosses are gloomier too.
Flash estimates of the economy's performance in June, released yesterday, showed business optimism at its lowest since the early months of the Covid pandemic in the spring of 2020 and the sharpest drop in new order volumes for a year.
Later today we'll find out how optimism is holding up (or not) among German investors, and US consumers, as fears that major economies could be tipped into recession grow.
The agenda
7am BST: UK retail sales for May
9am BST: IFO index of German business confidence
2.30pm BST: Bank of England chief economist Huw Pill gives a speech on 'Inflation and Debt – Challenges for Monetary Policy after Covid-19'
3pm BST: University of Michigan survey of US consumer sentiment
3pm BST: US new home sales report for May
Around 9 in 10 adults say their cost of living had risen over the past month, as inflation has tightened its grip on the economy.
The Office for National Statistics latest "Public opinions and social trends" report showed that 91% reported a jump in costs last month, up from 62% back in mid-November when polling began.
The most common reasons given were pricier food shopping (93%), gas or electricity bills (86%) or the price of fuel (80%).
Over 4 in 10 (43%) adults reported that they were buying less food when food shopping, which confirms the message from this morning's retail sales. That's up from just 8% back in September.
Plus, 46% of adults reported they had to spend more than usual to get what they normally buy this month, up from 18% last October
Back in the financial markets, European retail stocks have fallen to their lowest level since the onset of the COVID-19 pandemic in 2020 — reflecting recession worries.
The profit warning from online fashion retailer Zalanda, the drop in UK consumer confidence to record lows, and the fall in retail sales in May all helped to push stocks down.
The STOXX 600 retail sector hit its lowest level since March 2020, on track for its fourth consecutive week of declines as the cost of living crisis forces consumers to cut back.
More railway workers are to be balloted for strikes amid growing disputes across the industry, increasing the threat of disruption to services over the summer, PA Media reports.
The Transport Salaried Staffs Association (TSSA) served notice to ballot its members at Greater Anglia for strike action and action short of strike over pay, conditions and job security.
The union is demanding a guarantee of no compulsory redundancies for 2022, no unagreed changes to terms and conditions, and a pay increase which reflects the rising cost of living.
Voting starts on June 29, with the result due in mid-July, so the earliest date strike action could take place is July 27.
The TSSA is also balloting its members in Network Rail, CrossCountry, East Midlands Railway, West Midlands Trains, Avanti West Coast, Northern, LNER, C2C, Great Western Railway (GWR) and TransPennine Express.
Earlier this week, TSSA members at Merseyrail accepted a pay deal worth 7.1%.
Heads-up: Scammers are attempting to exploit the cost of living crisis by targeting consumers whose energy supplier has collapsed, analysis by Which? has found.
Former customers of bust suppliers including Solarplicity, Future Energy and Northumbria Energy have been singled out by fraudsters attempting to exploit the confusion caused by the companies' failures, the consumer group said.
Here's the full story:
Another blow. German business morale fell more than expected in June.
Rising energy prices and the threat of gas shortages are spooking businesses in Europe's largest economy, according to the Ifo institute.
Ifo's business climax index, just released, has dropped to 92.3 from 93.0 in May, which reverses last month's recovery.
On Thursday, Germany moved a step closer to gas rationing, after the country's economic ministry warned of a high risk of long-term supply shortages.
Russia has been systematically choking off gas deliveries through the Nord Stream 1 pipeline, leading to concerns that Germany won't have enough gas stored for the winter.
European stock markets are ending a choppy week with some gains, after Wall Street managed a rally last night.
FTSE 100: up 58 points or 0.8% at 7078
German's DAX: up 39 points or 0.3% at 12,952
France's CAC: up 56 points or 1% at 5940
That's despite economic data yesterday suggesting business growth slowed in the eurozone and the US, while UK firms were hit by a slowdown in new orders.
Ipek Ozkardeskaya, senior analyst at Swissquote Bank, says:
The market sentiment is better, but the news is not. The latest flash PMI readings from Japan to Europe and to the US showed a slowing global activity in June. Almost all regions missed the analyst expectations.

High energy prices, the Ukraine war and the pandemic disruptions, the tighter monetary policies and the rising borrowing costs are weighing on the global economic activity, and we now start seeing it through the PMI figures.
Weak growth could mean central bankers don't raise interest rates as fast as feared, if they also see signs that inflationary pressures are abating.
Copper set for steep weekly loss amid slowdown worries
Today's fall in retail sales and grim UK consumer confidence data cap a week in which recession worries have swirled.
And copper has paid the price – on track for its worst week in a year.
Three-month copper on the London Metal Exchange was down 1.6% at $8,273 a tonne this morning, the lowest since since February 2021.
The contract lost 7.7% so far this week, Reuters reports, as weak economic data this week has suggested an economic downturn, meaning less demand for commodities.
As if retailers didn't have enough to worry about, European online retailer Zalando slashed its profit and sales forecasts last night.
Germany's Zalando warned it expects weaker results in the second quarter and cut its full-year outlook, blaming worse-than-anticipated macroeconomic conditions.
Like many Internet retailers, Zalando saw a surge in sales early in the pandemic. But as shops have reopened, and inflation has soared, customers are cutting back.
It now expects to post adjusted earnings of €180m to €260m, down from previous guidance of €430m to €510m.
Shares have slumped over 15% this morning. UK retailers are also in the red, with Ocado (-2.2%), JD Sports (-1.2%) and Next (-1.1%) among the FTSE 100 fallers.
Ongoing supply chain problems are also hitting retailers, says Matt Jochim, partner at McKinsey & Company, and industrial action could add to the load.
"Shopping behaviour is changing as inflation takes its toll on spending. Food, household goods and furniture sales volumes reduced as consumers held back on big ticket purchases.

"Supply chain disruptions remain a factor, as retailers and consumer goods manufacturers continue to navigate lead time uncertainty and associated cost pressures like driver wage increases and container freight costs.

"Retailers will find navigating the summer months a continued challenge, as they contend with holiday plans and rail strikes.
Full story: Retail sales fall as shoppers cut back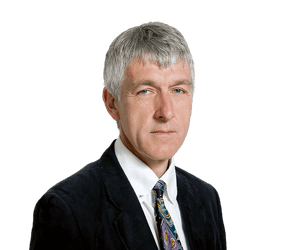 Larry Elliott
Britons are spending less on food as rising prices force them to cut back on their weekly supermarket shop, our economics editor Larry Elliott writes.
The Office for National Statistics (ONS) said smaller grocery bills were the main factor behind a 0.5% drop in retail sales in Great Britain last month.
However, department stores and household goods outlets also reported a reluctance of consumers to spend as a result of a higher cost of living.
The UK's statistics agency said the 1.6% decrease in the volume of food sales appeared to be linked to inflation, which as measured by the consumer prices index hit a 40-year-high of 9.1% in May.
Retail sales growth in April was also revised down from an original estimate of 1.4% to 0.4%, while in the three months to May – a better guide to the underlying trend than a single month's figures – spending was down by 1.3% on the previous quarter.
Here's the full story:




Source link