Derek Green: Growing business could fix a lot of problems
Green, a lawyer who has worked in various capacities in city government – including as an assistant district attorney, represents the city at-large and says he "look[s] forward to leading the city of Philadelphia in a different capacity than legislative."
He says his biggest budget accomplishment was helping find a way to balance additional property tax relief and some wage and business tax cuts, with maintenance of "a sufficient fund balance to put in a real number of quality-of-life investments in our city."
Green is a big believer in showing Philadelphians the city wants to invest in them.
One of the ways he has long hoped to do that is by establishing a public bank designed to help business owners, particularly Black business owners, who wouldn't typically be able to get lines of credit. That wasn't in the budget, but it ties in neatly with something that was: a tax cut that put the net income portion of BIRT under 6% for the first time since the late '80s.
"That ties into our public safety issue," he said. "We had the record number of homicides last year. And to me, the best way to address public safety and gun violence is the jobs, and the best creators of jobs are our small businesses."
Helen Gym: We need to move beyond the budget status quo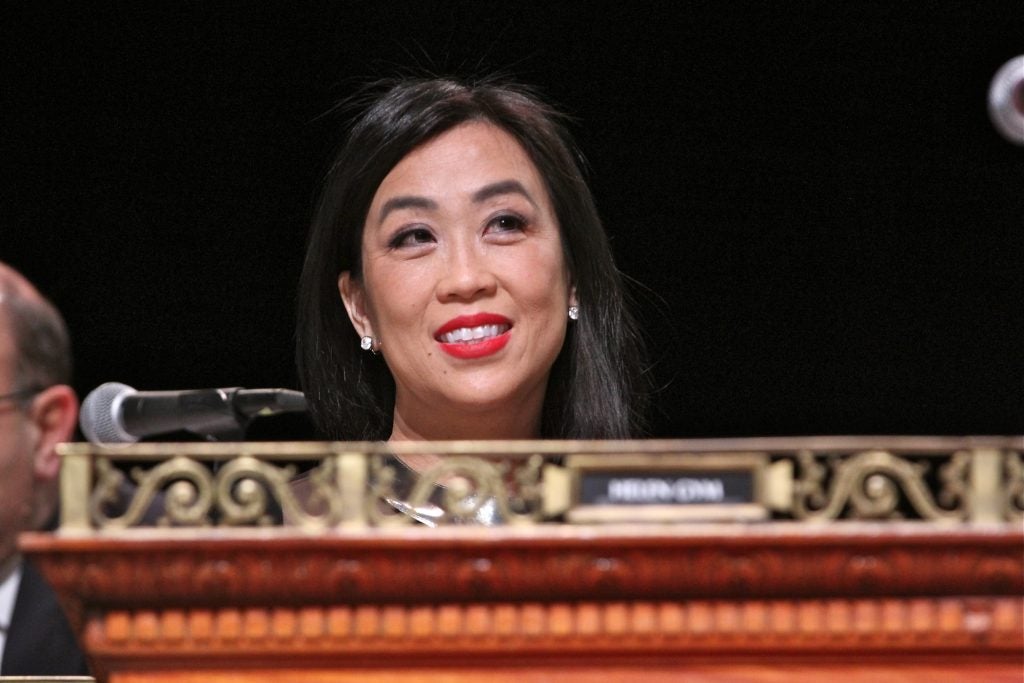 Gym is a former teacher and public school activist, and was the top vote-getter in council's 2019 at-large primaries. She isn't commenting yet on whether she'll run for mayor, but she's happy to talk about where she thinks council's budget proposal comes up short.
She's pleased with a couple priorities that made it into the package, like more money for services like trash collection and abandoned car removal in communities hard-hit by gun violence, and $15 million to restart rental assistance. But along with fellow progressives Jamie Gauthier and Kendra Brooks, Gym was mostly locked out of talks on the wage tax cuts. She thinks they're small enough to be basically financially neutral, but is frustrated by what she sees as a lack of imagination.
"When we went into this budget, our city needed a rescue plan. Families and communities need safety. Schools need funding. Small businesses needed help," she said. "I don't think it's any surprise that I voted against the wage tax cut … combined, that money could have been put towards schools."
Government, she said, needs to take a role in jumpstarting the economy by addressing neglected infrastructure in poor neighborhoods, launching more community-based violence interruption programs, and making it easier to open businesses.
Cherelle Parker: We must recruit more cops for community policing
Parker, a former state representative, represents council's 9th District and serves as majority leader. She hasn't said much publicly about her potential run for mayor, but has begun pitching specific plans that wouldn't look out of place coming from a candidate.
One of those is her Neighborhood Safety and Community Policing Plan. Unveiled this spring, she calls it a "holistic" approach to crime reduction centered on a plan to add 300 new police officers who would undertake "community policing." As part of that approach, she's touting the fact that she pushed for and secured inclusion of $250,000 for police recruitment in this council's budget package.
She also highlighted funding for security cameras, abandoned car towing, fixing street lights, and cutting down on illegal dumping — all ideas she'd included in her safety plan.
"The spending in this budget will go a long way to address critical public safety and quality-of-life needs while making it clear that our City is open for business," she said in a statement.


Source link